BR GROUP PRESENTS THAILAND DUCK COOKING CHALLENGE 2016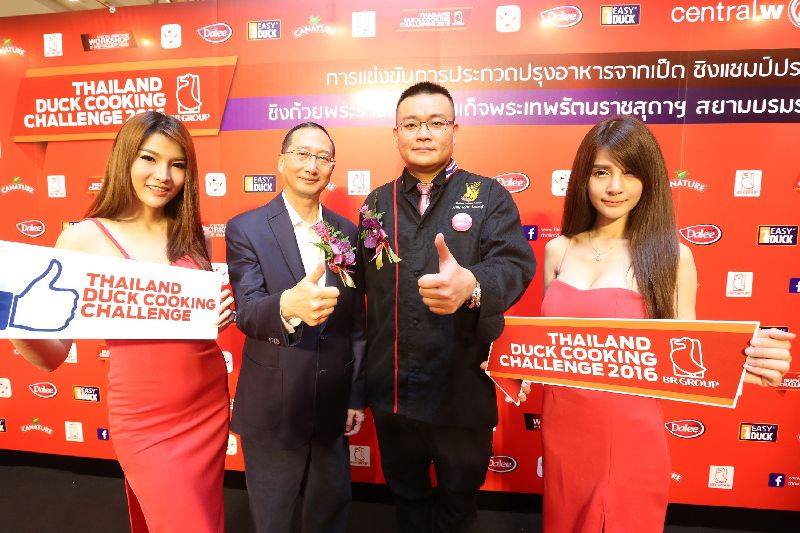 As a leading global manufacturer and distributor of a full range of duck meat products, Bangkok Ranch Public PLC (BR) will officially launch the Thailand Duck Cooking Challenge 2016, with trophies from HRH Princess Maha Chakri Sirindhorn and prizes worth more than 500,000 baht.
Mr.Joseph Suchaovanich, Vice Chairman of Bangkok Ranch Public PLC (BR) said, On the occasion that Bangkok Ranch Public PLC has become a listed company since last August, we are proud and delighted to set up an activity that benefits society, especially in terms of the development of people in the "chef" profession, utilizing the Thailand Duck Cooking Challenge 2016 as a tool to generate learning and jobs with a high standard. We've been fully and continuously dedicated to the study and research of production and distribution of our products. We also have been uncompromisingly committed to engaging in the development of society where we live and the related supply chain. A "Chef" is a prestigious occupation and is directly related to food. We hope to create opportunities and produce chefs, which amounts to developing human resources. We are determined to make this good project a new phenomenon to the Thai chef circle. One aim of this event is to develop the "chef" profession in full form via the process of learning by competition and the process of enhancing the experience of the "chef" profession by following standard guidelines. Another aim is to establish a new kind of "chef" competition.
It is expected that there will be over 1,000 people from different regions across the country participating in this cooking competition under standard rules set forth by the World Association of Chefs' Societies (WACS). Different venues have been established for this special contest, which are called the BR Group Cooking Challenge Arena.
The contest will take place in an area exceeding 1,000 square meters at Central Festival in five different regions, which are: Central Festival Pattaya, Central Festival Chiang Mai, Central Festival Khon Kaen, Central Festival Phuket, and Central Festival Samui for the first round. The final round will be held at the Central World Square in Bangkok on March 6, 2016.
This event is sponsored by the Association of Chefs Thailand, the Thailand Culinary Academy, and various chef clubs and associations across the country. The Thailand Duck Cooking Challenge 2016 will be complemented by a special training program "To Be the Great Chef," where Mr. Willment Leong will be the speaker. As a coach of Thailand's national chef team, he has successfully led Thai teams to win over 700 awards from food competitions across the globe for the past six years. Before this event, from October to December, Mr. Leong will travel across the country to run the training program, where the participants and contestants don't have to pay for anything. The program is entirely free!
Chef Willment Leong , Coach for Thailand's national chef team, Founding Chairman of the Thailand Culinary Academy, and Chairman of the WACS Without Borders, WACS said, The Thailand Duck Cooking Challenge 2016 is a very challenging contest for chefs, both at the professional and youth levels. This is because we'll apply international standards, and we'll organize the event at seven venues, in six regions. I don't want chefs to miss the event. Don't view the contest just as a game with prizes. A cooking competition based upon a high standard will allow the contestants to gain a good experience and correct understanding of professionalism and the chef profession.
Chef Somsak Rarongkham, Director the Thailand Chefs Association, a main sponsor organization of the Thailand Duck Cooking Challenge 2016 said, This contest has perfect preparation. The pre-contest training program by Chef Willment, taking one full day in different areas across the country, will establish a correct understanding about this contest and allow for learning about how to become a top world chef. This program is all free. I have to thank the Bangkok Ranch Public PLC for their good intention and the opportunity they have given to Thai chefs. I must say that this is a rare occasion for chefs like us. Another thing is this competition is a contest for trophies to be awarded by HRH Princess Maha Chakri Sirindhorn, which is the highest honor and a great challenge for the contestants. This will definitely be a contest that will be fun and widely talked about after this event has been publicized.