SCB TOASTS SUCCESS OF BANGKOK RANCH M&A DEALS WORTH 5.7 BILLION BAHT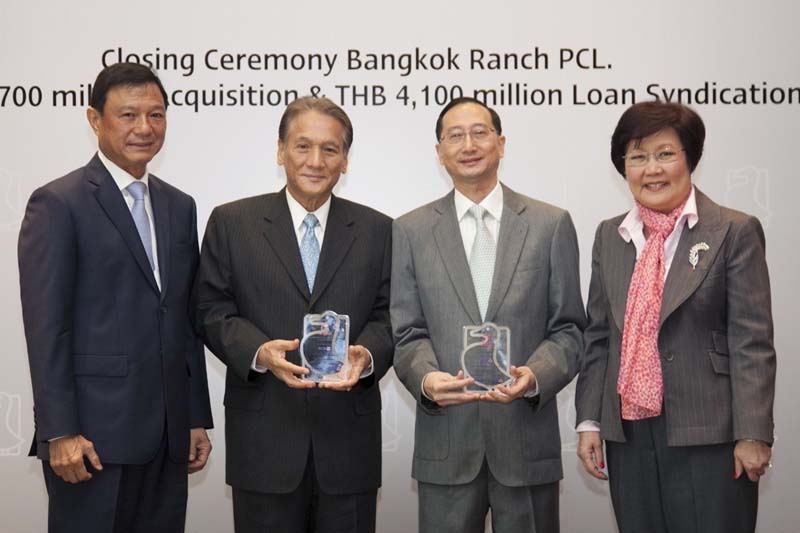 Siam Commercial Bank, as a financial adviser, joined in a deal closing ceremony held to celebrate the successful management of the 5.7 billion baht buyout (MBO) of Bangkok Ranch Co., Ltd., Thailand's leading supplier of premium quality duck meat products and solutions, from the Navis Capital Partners Thailand fund and Rabo Capital B.V. The deal involved a buy-back by the Thai management of shares held by foreign partners.
Speaking of the deal, Siam Commercial Bank President Mrs. Kannikar Chalitaporn said that SCB has received a mandate to serve as a financial adviser for the acquisition of shares and fund raising from existing investors and funds, and for acquiring funding sources to finance this Management Buyout (MBO) acquisition. The acquisition was financed by raising funds from the management group and investment funds, while the main funding source for the acquisition worth more than 4.1 billion baht was financed jointly by Siam Commercial Bank and Bangkok Bank.
SCB is well recognized for its expertise in LBO/MBO acquisition and in acquiring funding sources, both onshore and offshore. However, the deal would not have been successful without Bangkok Ranch's strong performance and its being the world's top ranked and Thailand's no. 1 supplier of premium quality duck meat products and solutions, as demonstrated by its growing sales, continued profitability, and stable cash flow.
Bangkok Ranch PCL. Asia and Asia-Pacific Region Executive Chairman / Managing Director Mr. Joseph Suchaovanich said that, "SCB paid close attention to every detail of the transaction, while also seeking new business opportunities for the company. Rather than just selling its products, recommendations provided by SCB proved to be very useful. With SCB serving as a financial adviser for the acquisition and fund raising from investors and investment funds as well as acquiring funding sources from financial institutions, the company was able to increase its capacity to seize growth opportunities from export markets in Japan and EU countries. Moreover, the company is expected to benefit from the lifting of the EU's import ban imposed on fresh duck meat, and EU economic improvement. It is also likely that Japan will lift its import ban on fresh duck meat from Thailand. Export of duck meat to Japan stood at approximately 12,000 tonnes before the spread of bird flu."
Mr. Suchaovanich went on to note that, "Duck meat from Thailand is popular due to its high quality and delicious taste. As Thailand's major provider of duck meat, with sales of more than at 7 billion baht per year, our production plans, standard price, and risk of oversupply in the market are being managed effectively. We look forward to tapping opportunities to increase market share in Japan from a current level of 8,000 tonnes to regain and exceed the 18,000 tonne level recorded in 2003 before the spread of bird flu. Bangkok Ranch is Thailand's foremost supplier of premium quality duck meat products and solutions, and with this buyout transaction the company plans to actively expand in overseas markets. "